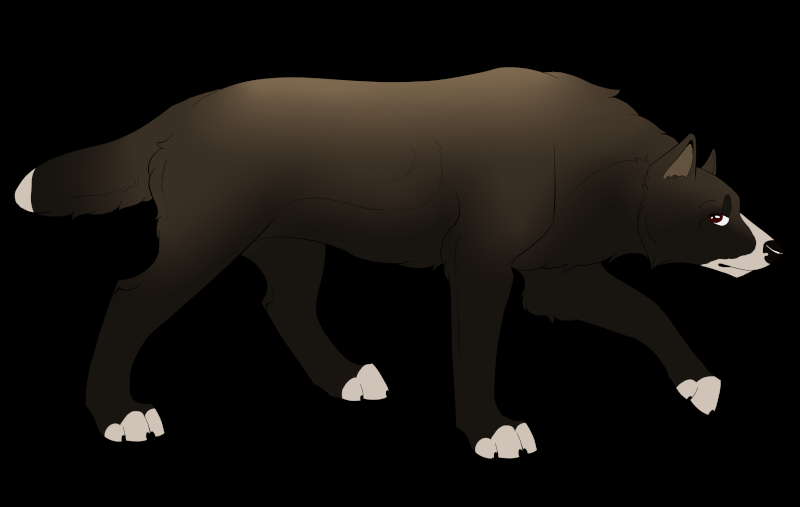 || The Basics ||
Name:
Grayson
Origin:
[Gray-sun] Old English meaning "The son of the bailiff"
Nickname[s]:
Gray, Sonny Boy
Gender:
Male
Age:
Four Years
Orientation:
Heterosexual
Rank:
Hunter
Rank Desired:
Hunter
|| The Looks ||
Height:
30 in
Weight:
135 lbs
Build:
Grayson is a made of muscle and on the larger size for male wolves. Most looking at him would think his brick wall of a body and powerful legs would make him a great warrior. And while that maybe true, he much prefers being a hunter and though he can't run for long periods of time, his strength is really good in taking down big game to feed the pack.
Eyes:
Mahogany Red
Coat:
Grayson's base coat is a deep, dark chocolate color. On top of said base resides a somewhat cape like marking that covers from the bridge of his nose to his tail and fades to a lighter beige color near the top. The lightest color on this male is an off-white color that covers all his toes, his muzzle, and the very tip of his tail.
Distinguishing Features:
None
Accessories:
None
|| The Personality ||
Overview:
[ Intelligent | Socially Awkward | Pacifist | Quiet ]
Grayson is quite, thoughtful male. He is very wise for his age and believes more in rational thinking to solve problems then violence. As many brainiacs are, Grayson is very awkward when it comes to socialization. He tends to be brutally honest because he doesn't know any better,  which can hurt others feels which then puts Gray in an unsettling situation because is so unsure of how to deal with others and their emotions. So to avoid all of that uncomfortableness, he just prefers not to interact with others too much, and will mostly likely just sit with the pack in silence unless someone else brings him into conversation.
Fear[s]:
To disappoint his loved ones; To kill without reason
Dream[s]:
To be able to overcome his social anxiety and be able to understand others better.
Like[s]:
Sunny Days, Stars, Pups, Calm, Hunting, Helping Others
Dislike[s]:
Rain, Chaos, Murderers, Bullies, Emotional People
Other Facts:
-He doesn't deal well with those that are really emotional and tends to try and avoid them.
|| The History ||
History:
Grayson had a normal puphood. He was born to his parents Asia and Gray (Get it, Gray's son; Grayson XD), along with his siblings Kora and Blue. The three pups grew up happy and healthy, and on their one year birthdays, as was tradition, they choose their life paths. Kora chose to stay with the pack, but Grayson and Blue knew they needed to move on to bigger and better things. Grayson and his brother started out their adventure together, exploring high and low and just loving life. However when the pair turned three they happened upon a pack and Blue fell in love with a lass. Grayson was very happy for his brother, but knew that just wasn't his place, so he began to travel again this time all on his own. For a year he was by himself until he stumbled upon The Meadow and something touched his heart and told him he had to stay.
RP History:
-
|| The Relationships ||
None :c